NEED excellent acoustics for a CONCERT,

a warm and inviting venue for a RECITAL,

or accessibility and parking for a MEETING or RECEPTION?

Welcome to our home.
Basics
We are pleased to support our community by renting our space for meetings, events, concerts and recitals. We have three primary spaces that can be rented: our main sanctuary, our original chapel, and our parish hall. A private parking lot is located directly next to our building and additional parking is available on nearby side streets. All of our spaces are air-conditioned in the summer and heated in the winter by a geo-thermal heating/air-conditioning system.
To get an idea of room availability please look at the monthly calendar posted on the home page.
Because we care about the health and safety of everyone using our premises, all groups are required to complete a liability insurance application form that can be downloaded from this site. The rental rate is set by the Corporation (the team that is charged with management and oversight of the parish). In establishing the rate, the day is divided into 3 units of time; mornings, afternoons and evenings. The rate set is usually based on the use of one of these units of time. Download our insurance application form, available in English or French.
Requests for the rental or use of the church facilities should be referred to the parish administrator, Jennifer Gibb. The church office (514-631-3601) is open from 1 - 4pm on Tuesday, Thursday and Friday in July and August.
Concerts, Recitals and Rehearsals
Main Sanctuary
The main sanctuary seats up to 250 guests. There is grand piano that is tuned once per year, typically in the spring. There is space for about 25 performers to sit or stand in the chancel area (in front of the altar). The banner picture at the top of the page features the Melodia choir which has blessed our sanctuary with many performances. Our pipe organ built and installed in 1959 by Casavant Frères has recently been upgraded (see the Music section for more information). The main sanctuary is fully-accessible with a ramp leading up to the front doors of the church from the parking lot. There is also a recently-renovated accessible bathroom – with support bars and room to maneuver a wheelchair or scooter - located at the rear of the sanctuary. Inquiries involving use of the organ should be directed to our Music Director, Chris Grocholski. Please see below for photos of our main sanctuary.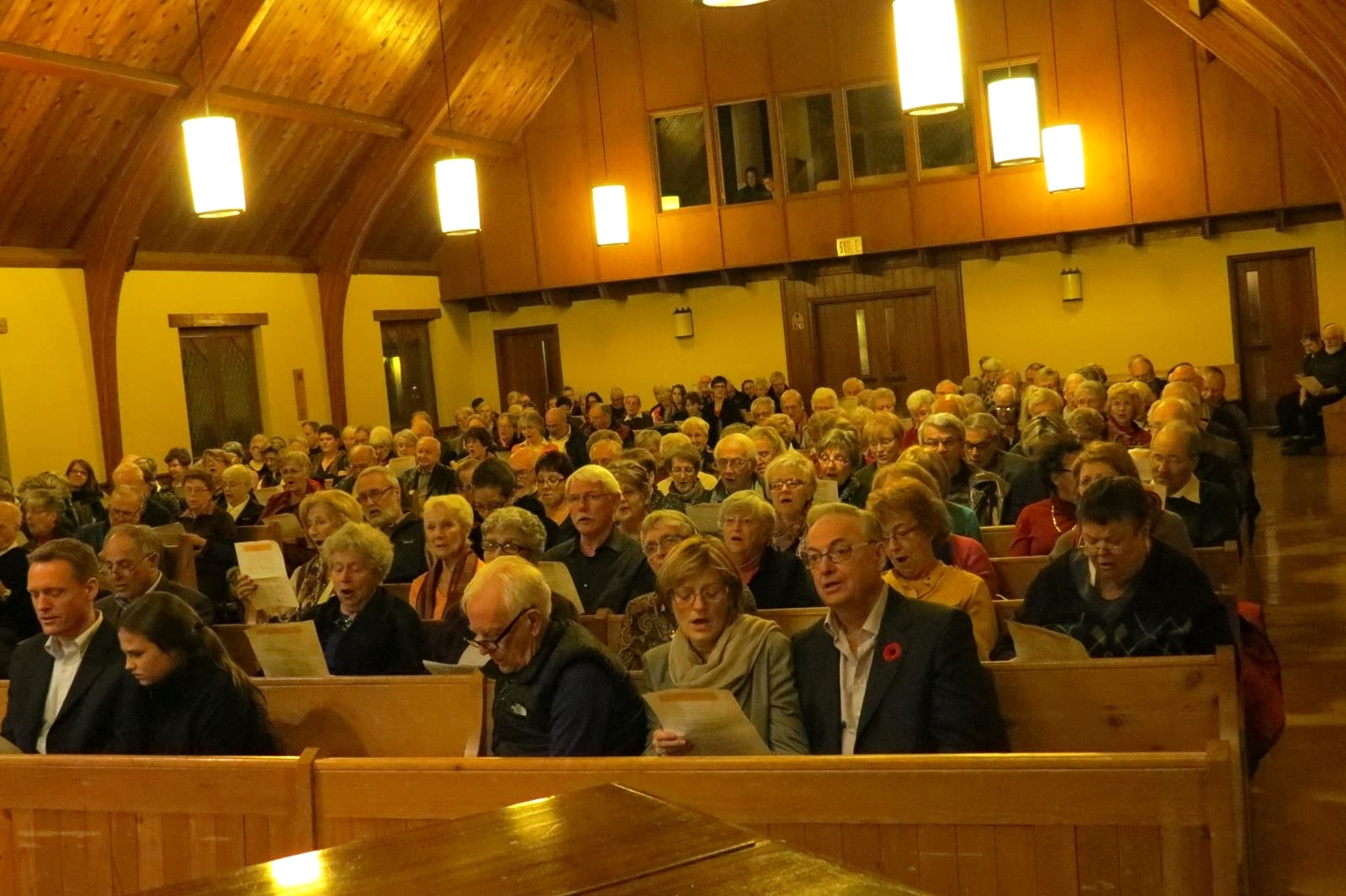 Chapel
Our beautiful chapel built in 1898 of local fieldstone. It seats about 60 guests and can accommodate small musical ensembles. It also favoured for small wedding ceremonies.
Parish Hall
Our parish hall is connected to a fully-equipped kitchen. It is a room with dividers allowing the space to be one large space that can accommodate up to 150, or two medium-sized rooms and one small room. The floors in the parish hall and in the hallway leading to it have been replaced with vinyl planks with a faux-wood design (see photos below). We have stackable chairs and square tables that can be configured in many different arrangements. The parish hall is rented to the CPE Dorval Daycare M – F between 8am – 6pm and is regularly rented to groups on Wednesday, Friday and Saturday evenings as well as on the 2nd Tuesday and 3rd Thursday of the month.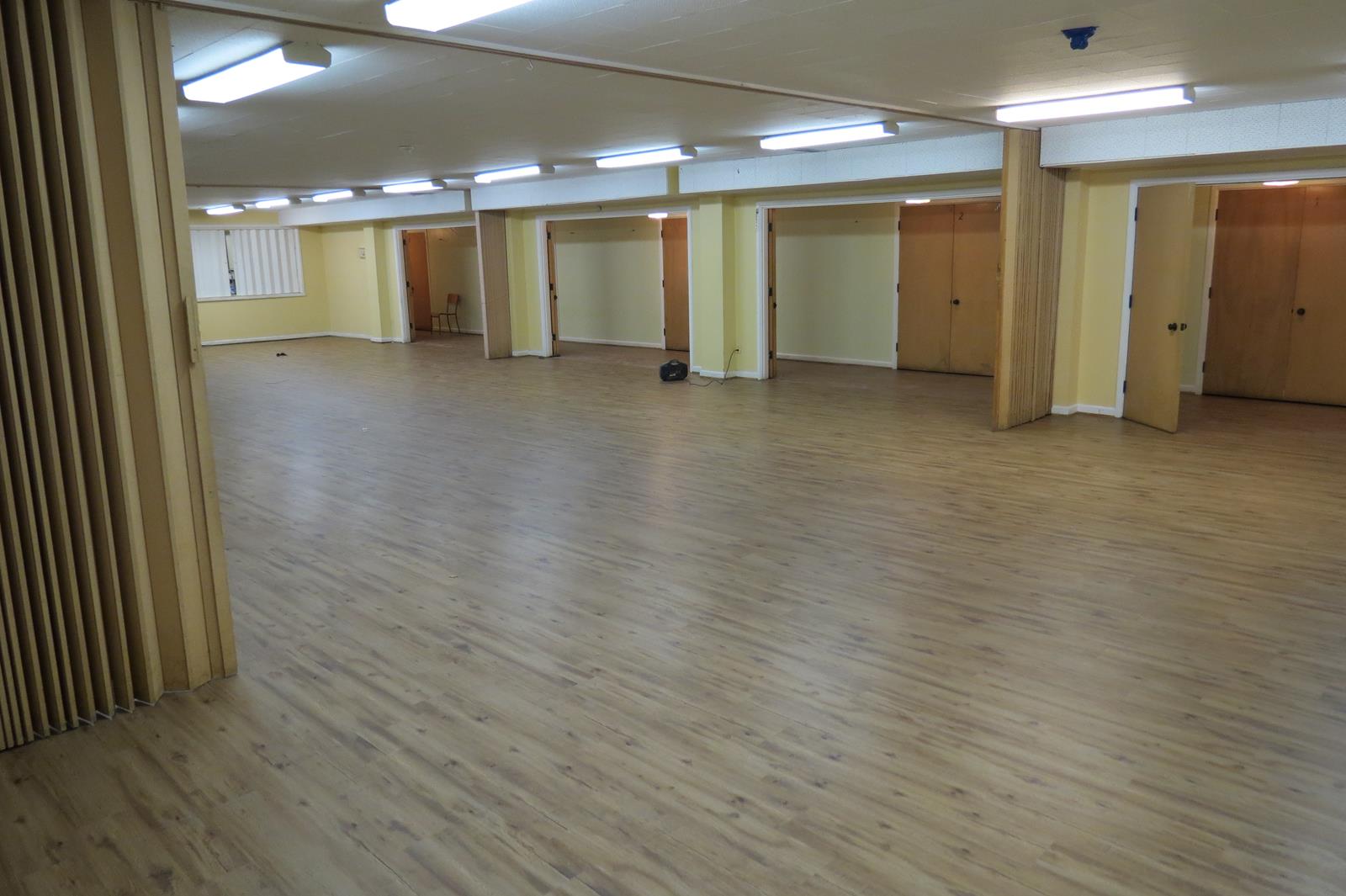 Weddings
Both our main sanctuary and our chapel may be used for weddings. Please contact the office for more information: allsaintsbythelake@gmail.com